Cultured Sea Glass BEADS 11x12mm frosted HEARTS 5 Strands Dark BLUES heart bead supply for making jewelry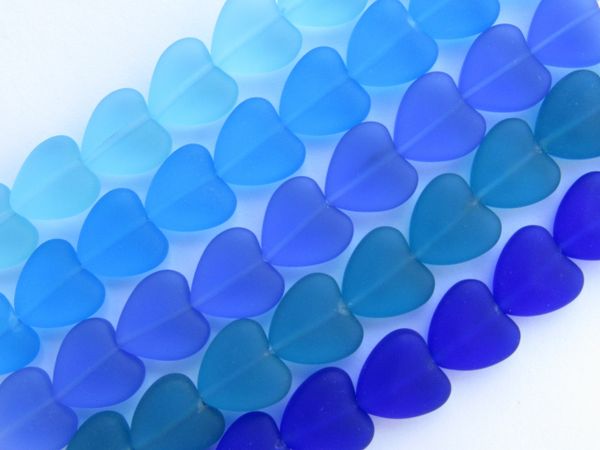 Cultured Sea Glass BEADS 11x12mm frosted HEARTS 5 Strands Dark BLUES heart bead supply for making jewelry
These assorted cultured sea glass bead includes one strand of each color:      Turquoise Bay, Pacific Blue, Light Sapphire, Teal and Royal Blue
Each puffed heart shape bead measures 11x12mm and is length drilled.  Each strand consists of 9 beads. 
Includes 5 strands.
They are made with recycled glass and put through a man-made process that simulates the effect of many years of erosion by Mother Nature and the Sea.
More beads:        https://beadsandpendants.com/products/glass-heart-beads-frosted-11x12mm-puffed-hearts-light-aqua-seafoam-bead-supplies-for-making-jewelry
Also if there is anything you had in mind and dont see it, please let me know. If Iwe have it, I am happy to put it together for you.
View all beads and pendants:                  https://beadsandpendants.com/