Cultured Sea Glass PENDANTS 48x22mm 10 pc Large SHARD assorted BLUE drilled frosted pendant bead supply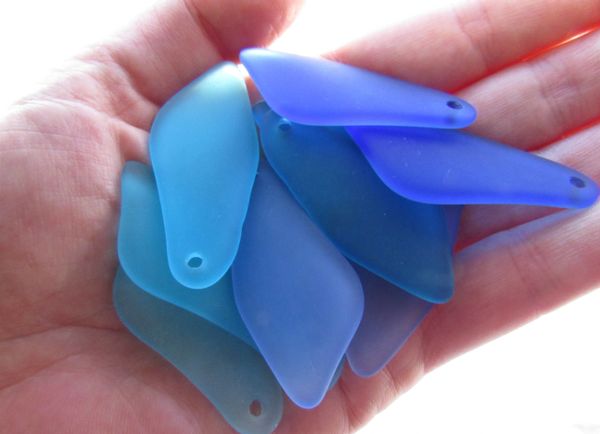 Cultured Sea Glass PENDANTS 48x22mm 10 pc Large SHARD assorted BLUE drilled frosted pendant bead supply
These cultured sea glass pendants are Turquoise Bay light Aqua Blue, Pacific Blue aqua blue, Light Sapphire or Cornflower blue, Teal or Marine blue, Royal or Cobalt blue
Each large shard pendant measures 48x22mm and has a 3mm hole.  These are bottle curved and the same shape.  They are transparent and frosted or matte finish glass.
Includes 2 of each color or 10 pendants.
They are made with recycled glass and put through a man-made process that simulates the effect of many years of erosion by Mother Nature and the Sea.
More pendants:    https://beadsandpendants.com/products/cultured-sea-glass-pendants-48x22mm-top-drilled-7-pc-large-shard-blossom-pink-frosted-matte-finish-bead-supply-pendant-beads
Also if there is anything you had in mind and dont see it, please let me know. If I have it, I am happy to put it together for you.