Rare Old BLUE Sponge CORAL BEADS OVAL 22-25mm by 18-16mm length drilled supplies for making beach jewelry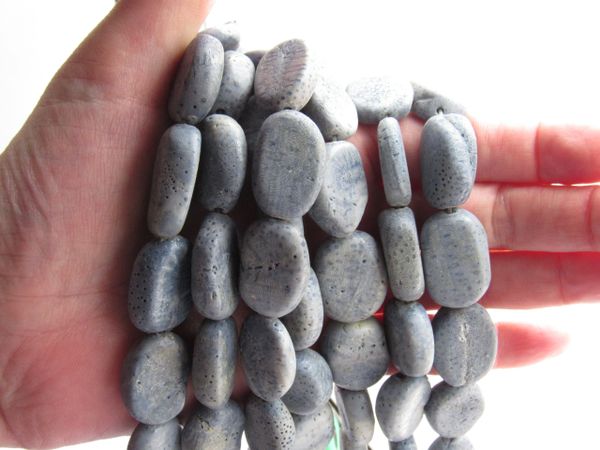 Rare Old BLUE Sponge CORAL BEADS OVAL 22-25mm by 18-16mm length drilled supplies for making beach jewelry
These are Genuine Blue Coral beads.  They are old coral that has been stored for 40 some years that I know of.  They are less dense than newer blue coral beads with more visible pores.  They are a cut cross section and is natural blue with patterning.
Each bead measures 22-25mm by 16-18mm and is approximately 8mm this with a 2mm hole.  A 16 inch strand consists of approximately 17 beads.
Also known as, Blue Ridge Coral, Blue Denim Coral grows in the Indo-Pacific region and is becoming increasingly more difficult to find.  
Available by the strand, 5 strands or 10 strand hank.
More beads:      https://beadsandpendants.com/products/bead-supply-genuine-blue-coral-beads-10mm-rondelles-natural-blue-sponge-coral-for-making-jewelry1
Also if there is anything you had in mind and dont see it, please let me know. If we have it, I am happy to put it together for you.
View all beads and pendants:    www.beadsandpendants.com