Spiny Oyster SHELL NECKLACE 25.25" Natural Turquoise Blue Purple Orange graduated handmade bead necklace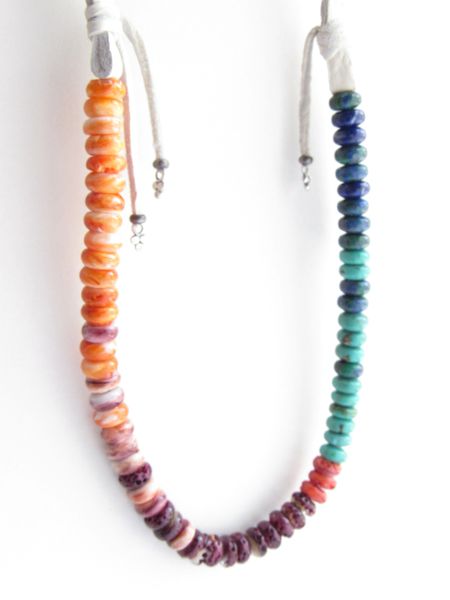 Spiny Oyster SHELL NECKLACE 25.25" Natural Turquoise Blue Purple Orange graduated handmade bead necklace
This handmade necklace is made with mostly Spiny oyster beads. They range in color from orange to purple with an accent with rare red spiny oyster. There are gemstone beads in genuine Turquoise, Malachite/Azurite and Lapis Lazuli.  The buttery soft natural leather ends are cleanly folded upon itself, wrapped and secured with a small square knot. The ends of the tied leather end with a small silver dangle finished off with antiqued Sterling Silver large hole bead.  The beads are 8mm as is the width of the leather. The necklace is made to go over your head, there is no clasp.

The necklace length is 25.25 inches (beads are 10 inches and the soft leather 15.25 inches). The necklace is made to go over the head.

Please inquire if you have a specific length or request. I am happy to help.
More handmade jewelry:       https://beadsandpendants.com/products/seaglass-bracelet-8-58-aqua-blue-colors-handmade-sterling-silver-chain-hook-eye-closure-sea-glass-jewelry
Also if there is anything you had in mind and dont see it, please let me know. If I have it, I am happy to put it together for you.

View all handmade jewelry:           Products | Bead and Jewelry Supplies for Designers and Jewelry Makers (beadsandpendants.com)